This article was originally published in Forbes.
Business owners are often intimidated by the mystique and the limited information available about private equity (PE) firms and how they operate.  The goal of this article is to help explain their mechanics and typical strategy. PE buyers are neither inherently better or worse for sellers, they just have specific characteristics and implications that you should fully understand before selecting your new financial "spouse."
The goal of a PE investor is to invest in or acquire private businesses with the objective of generating investment returns through dividends and/or capital appreciation.  The latter generally occurs due to A) revenue growth, B) improving margins, and C) from increasing valuation multiples typically associated with higher levels of earnings, often known as multiple expansion (stay tuned for a future article, which will cover this in greater detail).
Most private equity funds capitalize upon this last factor by acquiring several smaller companies at one valuation multiple and then reselling the packaged group at a higher valuation multiple.  This results in a natural "food chain" as companies consolidate: Small lower middle-market funds start with an initial 'platform' business that has sufficient scale and a good organizational foundation to absorb additional add-on (or bolt-on) acquisitions, along with some organic growth initiatives.  Eventually, the fund will sell this bigger company to a larger middle-market fund which will then pursue a similar strategy aggregating and (sometimes) integrating similar assets that are packaged with the intent of selling to an even larger fund.  This process continues as the asset gets continually larger and eventually ends with an acquisition by a large (often public) company or an IPO (less common nowadays).
Because lenders prefer it as safer and will therefore lend aggressively, most PE funds prefer to invest in businesses that generate stable cash flows and have downside protection and/or asset-light business models that can efficiently scale.  My firm recently went through the exercise of refreshing its database of over 2,000 PE investors focused on US middle-market businesses and found a number of commonalities across their ideal investment characteristics such as:
Market leader in a fragmented industry or market, ideally with further consolidation opportunities
Recurring revenues with a stable, diversified customer base
History of stable cash flows through various business cycles (i.e. Great Recession)
Preference for high margins (which insinuates a higher value-add business with less risk of commoditization), with most expecting an EBITDA margin greater than 10%
Defensible position based upon differentiation, brand reputation, etc.
Favorable growth prospects and industry trends
Strong management team in place, particularly for "platform" investments.
Because of these preferences, you often see many of them interested in similar industries, with the most common being:
Business Services, particularly ones enabled by technology
Healthcare Services
Technology/ Software as a Service (SaaS) businesses
Niche Manufacturing
Consumer Products
Value-Add Distribution
While there are significant similarities between funds, there are many nuanced differences, which are important to understand when assessing the best fit for you and your objectives and preferences.  "I have been fortunate to work with many incredible private equity firms throughout my career on both the buy-side and sell-side," said Reggie Zachariah, a corporate shareholder at Greenberg Traurig. "I have seen examples of many successful partnerships between PE firms and founders that have created a lot of value for both sides. While it's easy for a founder to focus solely on price, it's very important to find the right partner who can work together with the founder to create long-term value." Among the key differences are:
Funds with fully committed capital vs. fundless or independent sponsors funding transactions on an individual basis

The former typically provides more certainty of closing, but you'll often find many of the latter with substantial relevant industry expertise.

Deal parameters

Industry specializations
Minimum financial metrics required (EBITDA, revenue, etc.)
Typical amounts of equity invested

Orientation across the value-growth spectrum:

Buyouts/ recapitalizations- These buy out some or all of the financial interests of current ownership. Leveraged buyouts typically involve the formation of a new corporate entity that utilizes the underlying value of the acquired assets as collateral to fund a large portion of the purchase price with debt.
Growth capital- Rather than cashing out owners, this involves injecting additional capital into the business so it can fund growth through investments, expansions, or acquisitions.

Willingness to do non-control (or minority) investments:

While the overwhelming preference is majority investments with control, it's typically structured so the owner keeps a meaningful minority (10-20%) of equity in order to incent a smooth transition, often referred to as "rollover equity." That said, an increasing number of funds are willing to do non-control growth investments as long as there are minority protections, such as negative controls.

Level of operational involvement and support across the spectrum:

Purely passive financial investor who only participates in quarterly Board meetings (Board's scope will be limited to setting corporate strategy, selecting and holding accountable the CEO, and ensuring a strong bench is developed and succession planning is in place for all key roles) and whose team typically has limited operational expertise.
Moderately involved, offering their portfolio companies with access to an array of valuable resources including former C-Suite executives who provide operational consulting support, other shared services, and even training programs
Deeply involved in operational decision-making and even mandating who assumes critical roles within the organization.

Attitudes toward debt/ willingness to take losses (i.e., the more debt, the greater the likelihood of losses). Remember debt amplifies both gains and losses and places management under pressure.

Some decide to take the absolute maximum amount of debt available (often incurring annual interest rates north of 10%), in order to minimize their out-of-pocket investment. This structure also makes it easiest for them to walk away if the deal goes bad. Their mentality is they always maintain the optionality to inject additional capital into the business, if warranted.
Others choose to overcapitalize the business to provide a safety cushion for unforeseen issues.

Preference for management continuing versus transitioning out of the business
Comfort with investing in special situations (e.g., distressed or turnaround situations, etc.)
Culture, character, and reputation of the investment team
Unlike real estate transactions where the entire purchase price is paid in cash at closing, most deals are much more complicated, using a variety of different payments often with the objective of aligning incentives to ensure a smooth transition and minimizing the initial cash outlay, which helps boost the investment's financial return. Here's a relatively representative transaction structure:
Up-front cash payment: 65% of value
Seller financing or contingent payments (often an earnout paid over 2 to 3 years): 20% of value
Rollover Equity: 15% of value
Other potential areas where value can be negotiated: Consulting agreements, above-market lease terms, etc.
Funds are operated in accordance with their guiding legal documents.  Characteristics that are relevant to a potential seller include:
Finite lifespan, with the average fund having a ten-year term with the ability to extend for an additional two years. Where a fund is in its lifespan can often have an impact on its behavior, since each stage has actions that may or may not be taken:

Investment period is the window that new platform investments can be made, generally for the first three to five years.
The next phase is the harvesting period where investments are prepared to exit and sell. In general, current portfolio companies may continue to make smaller follow-on acquisitions but no new core investments will be made during this period.

Internal approval process to commit to a new investment
PE funds get paid an annual management fee to find investments and their investors expect the money to be quickly deployed so they can generate returns.  Because of this, if they really like a deal, funds are nearly always responsive and generally can make decisions and fund quickly (we're seeing the ability to close within 45 and sometimes 30 days of the signing of a Letter of Intent (LOI)).
Funds spend a significant amount of time and money sourcing their future investments and most have fully dedicated Business Development teams who are handsomely incentivized to proactively "scout" for new opportunities.  Eventually the relationship is handed off to a hierarchical investment team that analyzes, negotiates, and executes deals, if warranted.  The team is typically comprised of a young analyst (generally in their early 20s, and responsible for doing detailed financial analyses and to project manage the details through closing), a vice president/ director (generally in their late 20s to early 30s, who leads the execution and will likely be your daily point of contact during any confirmatory due diligence) and a partner (anywhere from mid- 30s to 70+ years old, who is responsible for negotiating the major decisions).  While the partner has a great deal of influence, they may not be the final decision maker, particularly in larger funds that require decisions by a formal investment committee– always ask prospective buyers early on who makes decisions and how they are made.
While PE funds with committed capital frequently advertise their assets under management, they almost never have it as cash on hand.  Rather this number refers to the amount of cumulative commitments that the investors have obligated themselves to.  When the fund decides to make an investment, it issues a "capital call" requiring those investors to send in their proportionate allocation of the purchase price a couple of weeks prior to closing.
PE funds are most frequently measured and compared based upon the investment return they generate, often referred to as an internal rate of return (IRR), which is equivalent to the interest rate you receive on your deposits at the bank.  What is important to know is this return is highly influenced by how quickly the money is returned.  Because of that, the funds often have a tendency to try and flip their acquisitions as quickly as possible.  While the average fluctuates over time, the median hold period for a PE investment is approximately 4.5 years.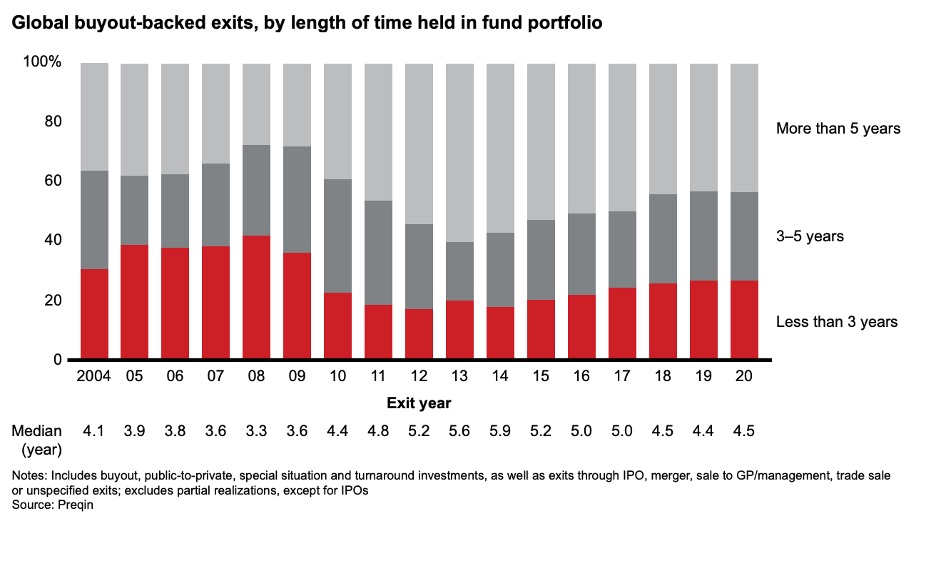 Done well, private equity funds deliver higher returns relative to the general stock market.  While the range varies greatly, most funds target an IRR north of 25% for each deal they underwrite.   Here is a simplistic illustration of the financial mechanics of a typical private equity deal showing how they generate these returns:
PE fund acquired an initial platform company with $4mm of EBITDA for $24 million (corresponding to a 6x EBITDA multiple)

Funded using 50% debt ($12 million) and the remaining $12 million with capital committed by the fund

A year later, another 2 similar businesses, each with $1 million of EBITDA, are purchased as add-on acquisitions for $4 million individually (corresponding to a 4x EBITDA multiple)– Grand total spent: $8 million

Again, funded using 50% debt ($4 million) and the remaining $4 million with capital committed by the fund

During the investment period, annual dividends are suspended and all of the cash flow is either used to pay the high-interest payments (a blended interest rate of ~10% was incurred, in exchange for a highly leveraged loan without any personal guarantees) or were reinvested into the business to fund additional expansion efforts and cost savings initiatives, which resulted in the gain of an additional $2 million in annual EBITDA. Some of the investments made to achieve these gains included:

Funding an expanded digital marketing budget
Automating various functions to reduce the amount of highly skilled labor necessary
Installing a new ERP system
Funding consultants to quickly integrate add-on acquisitions to achieve estimated synergies
Other initiatives to institutionalize the systems, process, and organization

At the time of sale, the business now has $8 million of EBITDA, which now commands in a competitive sales process an 8x EBITDA multiple, resulting in a total sales price of $64 million.
After repaying the $16 million dollars of outstanding debt, the investors net a total return of $48 million, three times higher compared to the $16 million initially invested just four years before. This mathematically results in an IRR of 34%.
While this article was focused on the structure and mechanics of PE investments, stay tuned for my next article which will dive into the typical playbook, explaining how these firms execute the strategies and tactics to boost operational and financial performance.